Click to enlarge SOME HISTORY BELOW

These tents don't exist anymore. Strong winds in 2009 destroyed them

We are planting God's kingdom together! Thanks very much for all your love and for believing in us through all these years. Blessings to all!

The pictures below are showing our recent improvements and new constructions of the Student's dorms and Teacher's facilities.
Achieved Goals and activities: * Objectives 2004 - 2010*
1/ Building the entrance path (road) that will go through the front of the property till the Training Center. 2,000 feet long.
2/ Building a bridge in order to bring an 18 wheeler to the property
3/ Cleaning the property lot, Set up the tents and connect Power and water.
4/ Construction of: kitchen, restrooms, students dorms and teachers fascilities
5/ Evangelistic work at night, bringing the community to our place, using a projector in order to bless children and youth with different movies. These movies will help to bring a message of good news in their own language. After the movie we will have a forum and ministry to the people. Also through skits, mimes, singing, etc.
6/ Meeting with pastors presenting the vision of the Mission Center and Bible Institute. We just delivered the materials and dvds.
7/ Training the church in explosive evangelism and Family Issues.
8/ Hosting students in the Training Center for a year or two of Bible training and practical evangelism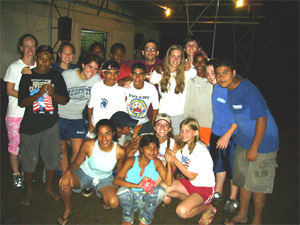 We are working with the construction of our facilities
Thanks to all our partners that have made this possible through their donations and ministry work